Great-looking, affordable and sturdy PVC fencing, designed to last.
Stunning, sturdy, affordable, maintenance-free PVC fencing that looks expensive but actually saves you money, time and hassle.
Our high-quality, high-class PVC fencing solutions are:
Convenient Australia-wide delivery.
We deliver our premium-quality PVC fencing Australia-wide for your convenience. Our team is a phone call away, ready to help with all the advice you may need.
An easy, cost-effective and highly aesthetic fencing solution
High-quality PVC fence panels that can completely transform your property
If you've been looking for a low-maintenance, long-lasting fencing solution that is easy to care for, stands up against the test of time and is excellent value for money, our range of high-quality PVC fences are your answer. These fence panels are made from UV-resistant PVC materials, and are easy to install on any property.
They can be easily installed on a levelled property and can either be stepped or raked for sloped properties (depending on the degree of the slope).
Why choose us? Here's our promise to you
The best quality, best prices, and the best service, guaranteed. We're committed to providing the highest quality solutions that offer the benefits of durability, stunning aesthetics, convenience, and a great price.
Here's what makes PVC fencing a better choice
Made from PVC resin materials and with aluminium-reinforced bottom rails, our PVC fence panels are a highly popular option with homeowners in Brisbane, the Sunshine Coast, Melbourne, South East Queensland and right across Australia.
PVC fence solutions to suit any home or property
Our range of high-quality PVC fencing supplies brings modern sophistication to any outdoor area
Whether you require total privacy in your backyard, a Hamptons inspired "wow factor" to add value to your home, or a ranch fence to keep the livestock safe, our premium-quality yet affordable PVC fencing range has you covered.
Here's our great range of options available:
Stylish PVC fence panels in the Hamptons fence style
If you're looking for a Hamptons fence that offers total privacy, our Hamptons Privacy Fence is likely your fencing match made in heaven.
Our Hamptons Privacy fence provides excellent privacy, modern sleek lines, is effective in noise reduction and creates a great bright backdrop for planting and landscaping. If you live in a loud location near a busy road or a noisy area, or simply like your peace, privacy and quiet, you'll love this option in our Hamptons PVC fence range. This option is popular with customers that want to add privacy and reduce noise. Our Hamptons Privacy fencing comes in multiple heights, with aluminium reinforced bottom rails and a manufacturer's guarantee.
PVC picket fencing in the Hamptons fencing style
The Hamptons Picket Fence radiates an aura of elegance and refinement, all the while presenting an attractive fencing solution. If you're in search of picket fencing that encapsulates the Hamptons style and appreciate the advantages of PVC fences, then you will love this option.
Our Hamptons Picket fencing comes in multiple heights, with aluminium reinforced bottom rails and a manufacturer's guarantee.
Hamptons Top Picket Fence
White PVC fencing that perfectly blends the Picket and Privacy Hamptons fence styles
Love the Hamptons fence style but can't decide between the Hamptons Privacy Fencing or PVC Picket Fencing options? Our Hamptons Top Picket fence combines the best of both and is the product for you! With Hamptons Top Picket fencing, you'll enjoy the perfect blend of privacy and the timeless elegance of picket details, all while facilitating airflow and passive surveillance.. Our Hamptons Top Picket fencing comes with aluminium reinforced bottom rails and a manufacturer's guarantee.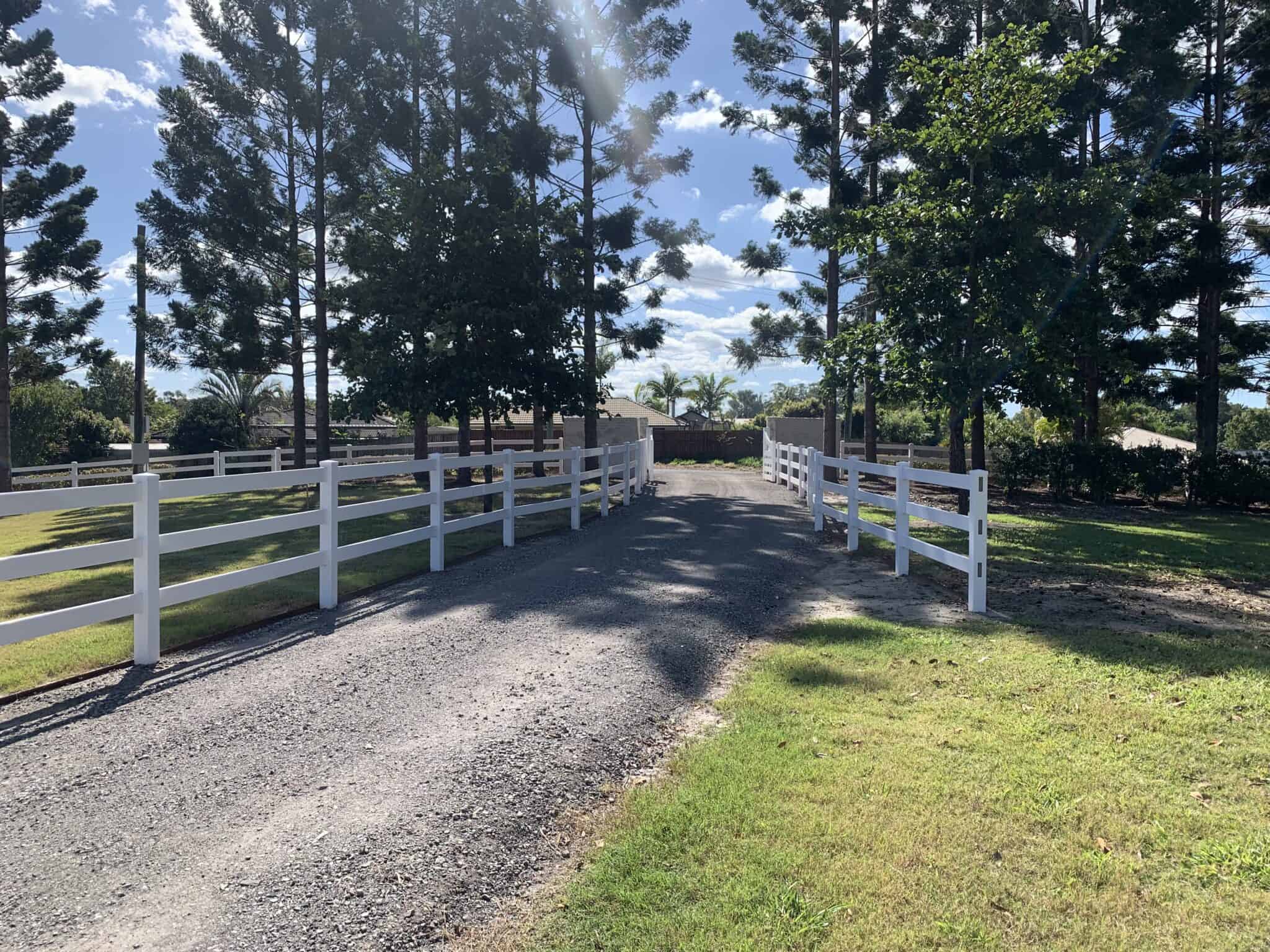 A durable, stunning and cost-effective 'Post & Rail' fence solution that stands the test of time
Searching for an affordable, hassle-free, and visually appealing fencing solution for your acreage property or sports facility? The sleek, white elegance of our Ranch Rail fence is simply irresistible. Designed for easy installation and exceptional value, our Ranch Rail Fence collection is guaranteed to leave a lasting impression. This post & rail fencing is suitable for livestock and horse paddocks. Ditch the heavy timber and make your next post and rail fencing project 'Too Easy' with the effortless charm of PVC Ranch Rail fencing!
PVC fencing accessories - gates, caps, stirrups, latches and more
We offer a range of gates and fencing accessories to complement our PVC fencing options
We stock a wide range of gates in different widths to suit each fence style including a range of Gate hinges and latches available in black and white.
We also stock a range of post caps, aluminium post inserts (to suit end posts and two-posts), aluminium bolt down stirrups and wall brackets. If you would like more information, download our Info & Pricing Brochure or talk to an expert in our team today.
Are you interested in creating a striking entrance? If you're looking to elevate the aesthetics of your PVC Hamptons fence, take a look at our PVC fence Arbours. They effortlessly integrate with the white PVC fencing selections available in our Hamptons fencing range. These fence arbours can enhance the appeal of entryways, harmonising beautifully with corresponding pedestrian gates. Our Arbours are 1.0m x 1.0m and suit a 1.0m pedestrian gate.
Talk to a fencing solutions expert in our team today to learn more, or download our Info & Pricing Brochure to see pricing information.
We deliver Australia-wide
Whether you're looking for high-quality PVC fencing in Melbourne, Brisbane, the Gold Coast, Sunshine Coast, Sydney, South Australia or really anywhere else in Australia, we can deliver to you. Easy.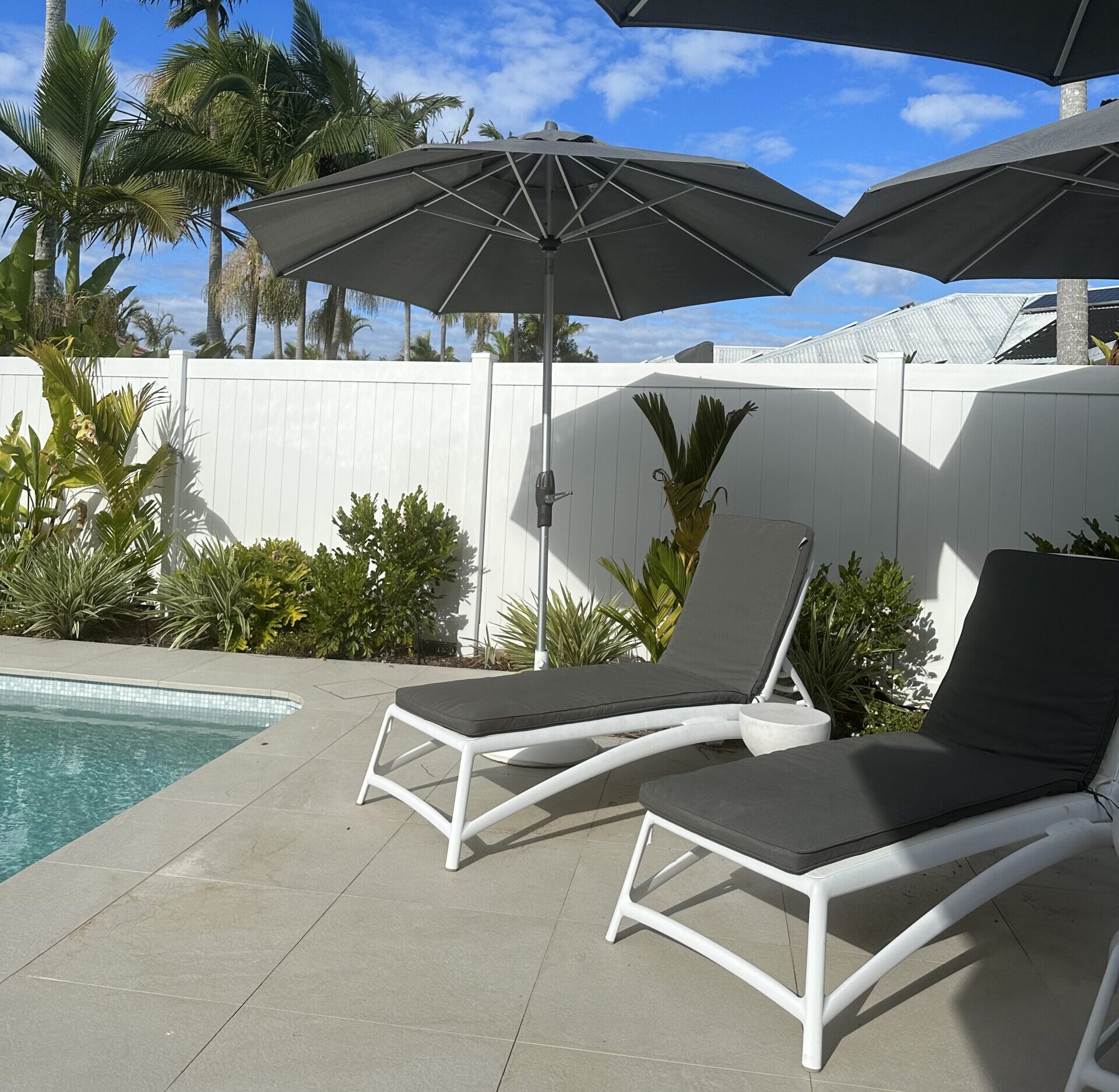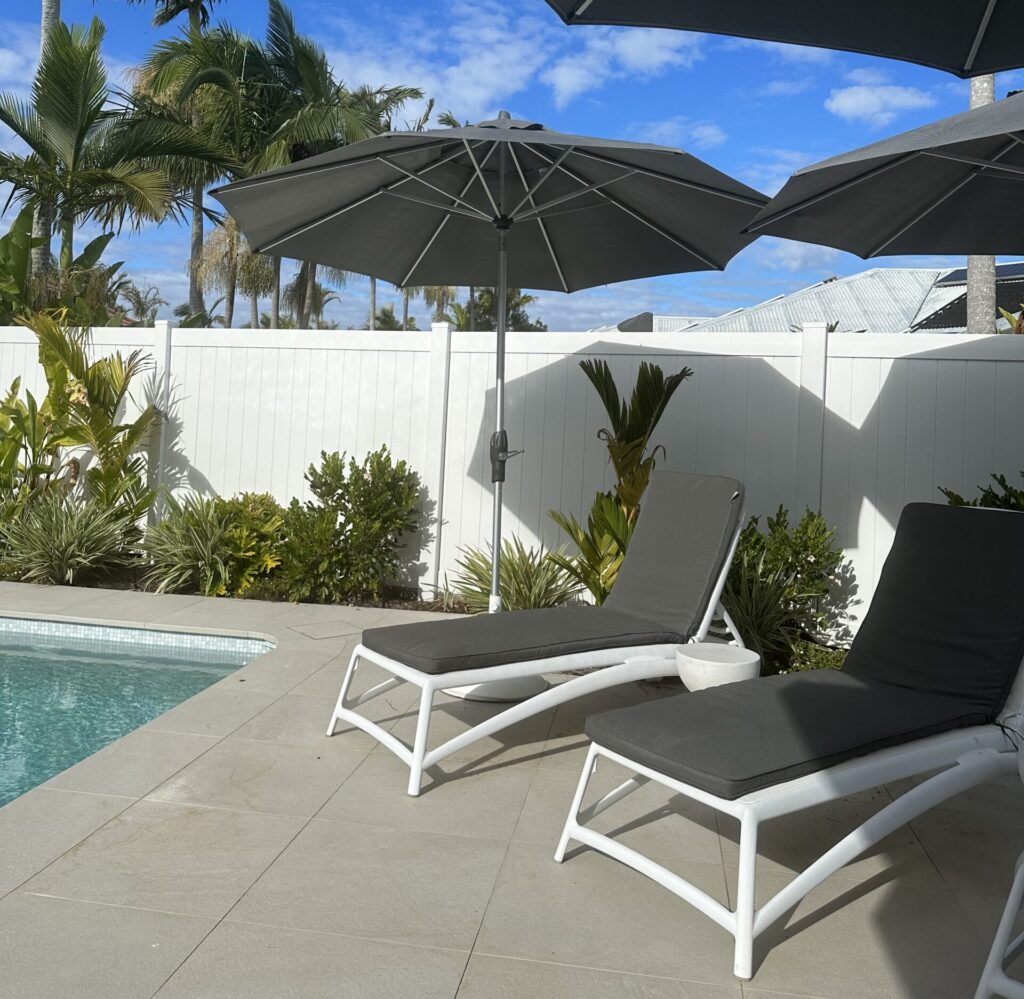 Ready to get started? Talk to our team today.
Whether your preference leans towards Privacy PVC fence panels, Picket designs, a blend of both, or the captivating Ranch Rail Fence, our top-tier fencing options are bound to leave a lasting impression. Reach out to our team to consult with a PVC fencing expert today. We take pride in assisting our valued customers with expert advice whenever they require it. Alternatively, you can access pricing and additional details by downloading our informative brochure.
We organise installation in Sunshine Coast, Gympie & surrounds, Brisbane, Gold Coast, Hervey Bay, Bundaberg and beyond!
If you are looking for PVC fencing in North Brisbane, South Brisbane, Central Brisbane or want PVC fencing on the Sunshine Coast or the Gold Coast, the best news is that we can organise installation of your fencing within these areas. Our trusted network of contractors can install our fencing in many QLD regions.
If you're outside of these areas, though, don't worry – our Australia-wide delivery and easy-to-install PVC fencing solutions make it easy for anyone in Australia to transform their property with stunning new PVC fencing. We also have a great network of suppliers and may be able to organise a contractor we know you can count on.
Get in touch with us to book your installation
A Hamptons PVC fence has never been easier: our process
With attentive service and detailed installation instructions, we're with you every step of the way.
The first step is to get in touch with one of our PVC fence experts. Whether you have questions, want an exact quote, need expert advice, or just want to get started, we're here to help. We'll provide you with a quick and free quote, and great advice to get things moving.
We'll get everything ready
Once you've selected which PVC Fencing product is right for you, our team will work on getting it all put together and ensure that everything you need is provided. We go above and beyond to deliver the very best PVC fencing solutions, products and customer service.
Your fence is delivered to you (with optional professional installation in some areas)
We will organise your fence to be delivered safely and securely to you, wherever you are in Australia.
We also offer installation services for your PVC fencing in select South East Queensland locations. We are incredibly proud of our network of contractors. By having this accessible to us, we can easily organise a contractor to install your PVC fencing in Sunshine Coast, Gold Coast and Brisbane. Our Brisbane installation covers all of Brisbane, whether you're wanting PVC fencing in North Brisbane, Southside or Central Brisbane.
If you're outside of these areas, you can rest assured that we include detailed installation instructions, are on-call to give you help over the phone if you need it, and our PVC plastic fence panels are easy to install. So what are you waiting for? Talk to a fencing specialist in our team today to get started and learn for yourself why so many happy customers in QLD rate our fencing solutions so highly.
Frequently Asked Questions
Talk to our experts today and get your dream Hamptons fence today
Whether it's our range of PVC Hamptons fence options or our Ranch Rail Fencing you've got your eye on, your dream fence is as simple as getting in touch with our experts. Talk to us, the PVC fencing supplies experts, today and your brand new fence will be looking great on your property before you know it.