Bali Huts Cairns. Transform your backyard into a private getaway
Best Quality. Best Service. Best Prices. Guaranteed!
Enjoy tropical luxury at home with a Bali Hut
Looking for Bali Huts, thatching and gazebos Cairns locals love? At Island Thatch, we have high quality outdoor lifestyle solutions that will let you bring a tropical feel to your own backyard. 
Our Bali Huts, gazebos and thatch roofing blend premium quality with aesthetic appeal while giving you a cool shady space to enjoy.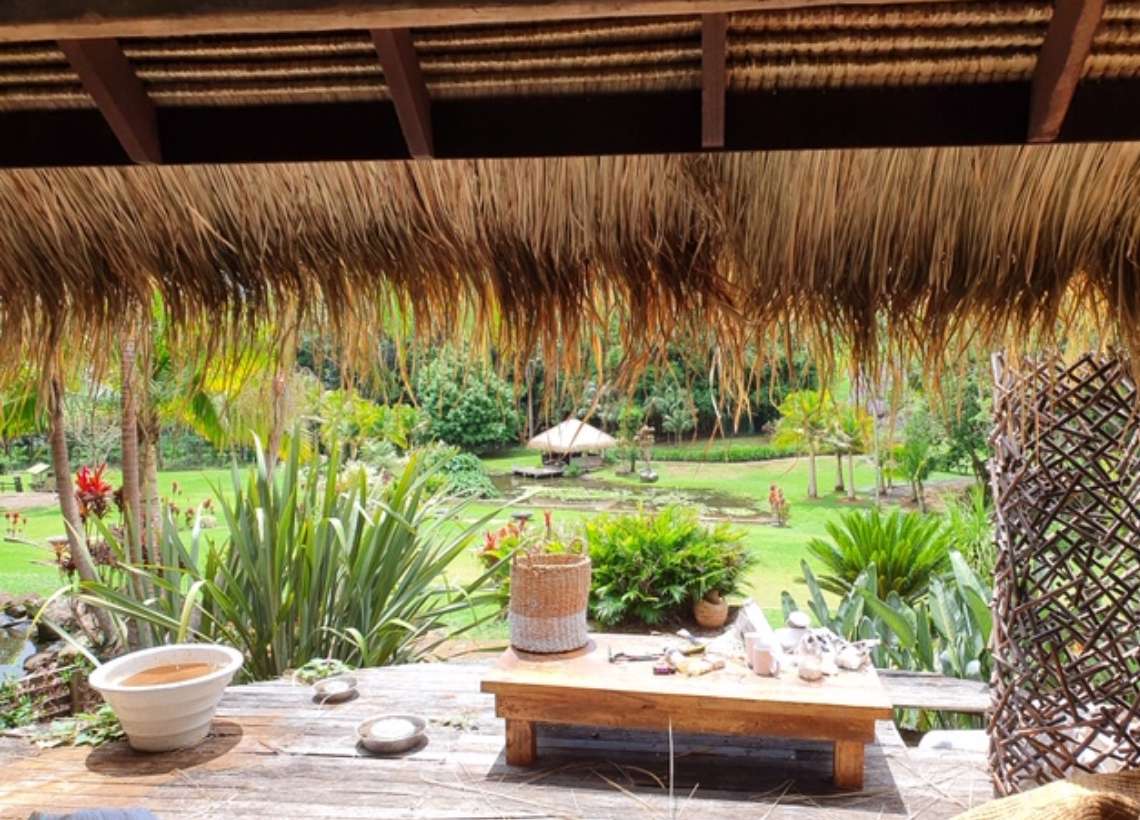 Outdoor living solutions for Cairns
Cairns has a unique coastal feel, which is why the resort-style outdoor living solutions we offer at Island Thatch are so popular with Cairns locals. 
We often get people as us about:
We offer all of these at Island Thatch, and can deliver to you wherever you are in Australia. We can help you create the perfect recreation or entertaining space.
Here's more information about each of our most popular Cairns outdoor living solutions:
Our thatching is popular in Cairns, with Bali Thatch and African Thatch roofing options that provide natural insulation and cooling of up to 10 degrees compared to conventional metal roofs. Our thatch roofing is renowned for its resilience, as well as looking great.
There's a reason we're known for Bali Huts in Cairns, (often referred to as Gazebos by Cairns locals). Our Bali Huts transform backyards and turn them into resort-like sanctuaries. So do our umbrella kits — perfect for your poolside relaxation. Our Bali Huts and Umbrella kits come complete with straightforward instructions. You can also opt to use our accredited installation network for an even easier experience.
For those preferring a modern touch, our Synthetic Thatch Roofing is a stylish and practical alternative to natural thatching. Our Synthetic thatch roofing options include the acclaimed Virothatch and One Thatch Palm Shingles.
Our shingle roofing looks stunning in any backyard or landscape feature. Our shingle roofing panels are 100% waterproof when installed properly and usually last for more than 25 years. Our synthetic shingle roofing has a 25-50 year warranty, too, for your peace of mind.
We're not just the Bali Huts Cairns specialists, Gazebo Cairns specialists and Bali Hut thatching Cairns specialists — we're also the PVC fencing specialists too. Our stylish, elegant PVC fencing looks expensive, but is very affordable, sturdy, and stands against the test of time. We have a range of styles including Hamptons privacy and ranch rail fences, as well as others. Explore our range today.
Reinvent your Cairns landscape with our bamboo panels. Enhancing privacy and adding a resort-like vibe, our Bamboo Panels make a highly aesthetic and practical enhancement for both residential and commercial properties.
Create your own backyard escape with our Cairns outdoor living solutions
Embrace tropical luxury and bring it to your own backyard with our assortment of Bali Huts, gazebos, and thatching solutions. Our products merge aesthetics with the practicality and enjoyment; just what you need for your Cairns home or business.
Why Cairns residents choose Island Thatch
Residents and commercial managers in Cairns trust Island Thatch for high-calibre Bali Huts and diverse outdoor resolutions. Here's why.
Our Commitment to Excellence
Our passion is to provide great quality outdoor living solutions at unbeatable prices. We take pride in our extensive industry experience, and are here for advice or help if you need us. 
Launched in 2001 by our Founders and Leaders Paul and Donna, Island Thatch is dedicated to providing exceptional service and stunning outdoor leisure solutions. Since our beginning, we've been passionate about helping our clients across Australia to improve their lifestyle and wellbeing while adding value and beauty to their properties. 
Our close-knit Cairns crew, led by Paul and Donna and their son, are eager to help you turn your external spaces into tropical island-esque getaways.
Our process: three steps to transformation
Get in touch and we'll give you advice on the best fit, and give you pricing.
We'll get it to you quickly
We'll get everything put together and get your solutions to you. 
We'll deliver your product to you, wherever you are in Australia.
Contact our expert team and create your own slice of heaven
If you're ready to create a tropical getaway in your own backyard, or improve the appeal and enjoyment of your commercial property, get in touch with us today. We'll happily provide you with advice and a free quote to make it happen.