Island Thatch Shingle Roofing are designed to withstand our extreme climate.
All our shingles are 100% waterproof when installed correctly with a life expectancy of over 20 year with our synthetic shingles having a lifetime warranty.
Island Thatch's Ironwood Shingle Roofing offers timeless beauty, with excellent durability.
Designed to withstand our extreme climate, they are 100% waterproof when installed correctly, require no maintenance, and are mildew resistant. With a life expectancy of over 20 years, they are a long term solution for outdoor shade.
A traditional roofing material in Indonesia, shingle roofing offers a lifespan of over 20 years. This type of roofing first originated in Kalimantan, Borneo where it has been used for hundreds of years for housing, due to its strength, aesthetic appeal and weather resistance.
Ironwood Shingle Roofing has the following qualities:
100% waterproof with correct spacing and installation
Requires minimal maintenance
Mould and mildew-resistant
Termite-resistant
Long lifespan and durability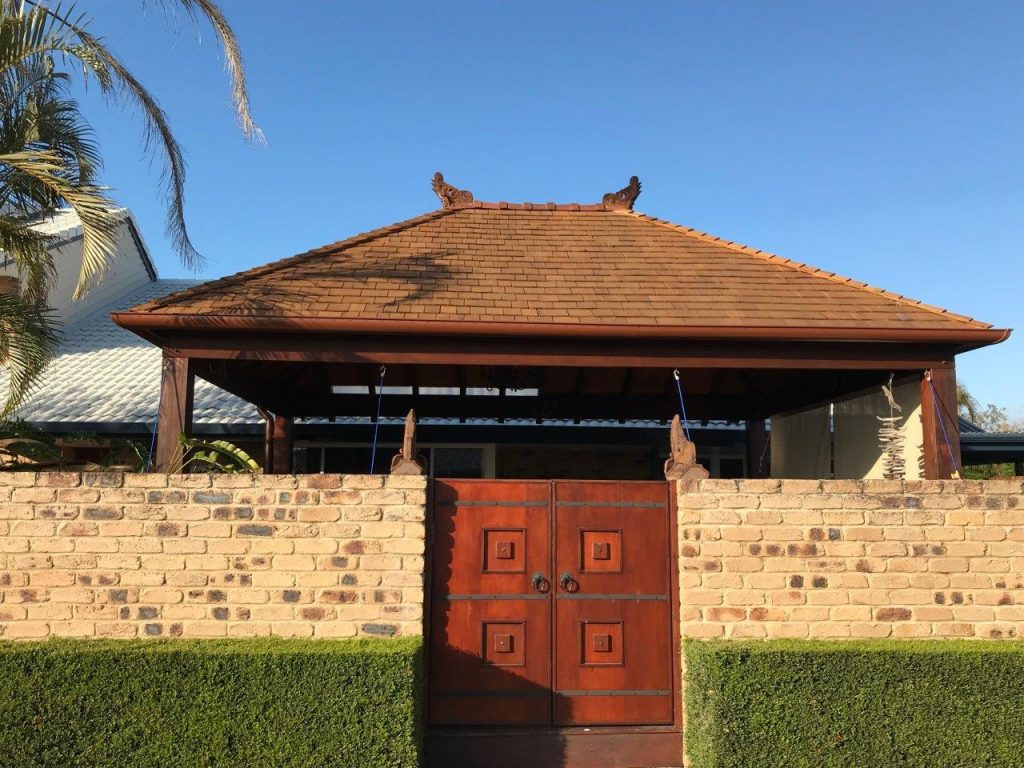 Western Red Cedar Shingles
Widely used in North America, and Europe, these shingles are ideal for gazebos and outdoor rooms.
Benefits of Western Red Cedar Shingles include durability, exceptional insulation and low maintenance, as well as a natural, rustic texture.
Red Cedar shingles have the following benefits:
Kiln dried and durable
Maintenance fee
Sustainably harvested
Wind-resistant
Waterproof with correct installation

Shingle Roofing – Good to Know
Recommended roof pitch 30 degrees. Recommended Rafter Spacing 500–650 mm.
Synthetic Shingle Roofing
Da Vinci shingles offer a fantastic alternative to the natural shingles, with the advantages of durability and a lifetime manufacturer's warranty. With a USA Class A fire rating, Da Vinci tiles make a great choice for commercial projects and DIY projects alike.
The aged cedar effect tiles come in 520mm length and vary from 100-200mm in width. They replicate the natural colour, texture and size variation of a natural tile to give an authentic look to your next roofing project.