Bali Huts Sunshine Coast. The perfect tropical addition to any backyard.
Best Quality. Best Service. Best Prices. Guaranteed!
Create a tropical paradise in your backyard with a Bali Hut
Transform your outdoor space with a Bali hut or thatch roofing. These stunningly tropical outdoor living solutions offer you the best quality matched with a practical backyard addition.
Kick back outside in the summer months with adequate shade and a gazebo that makes your outdoor area look and feel like a tropical paradise.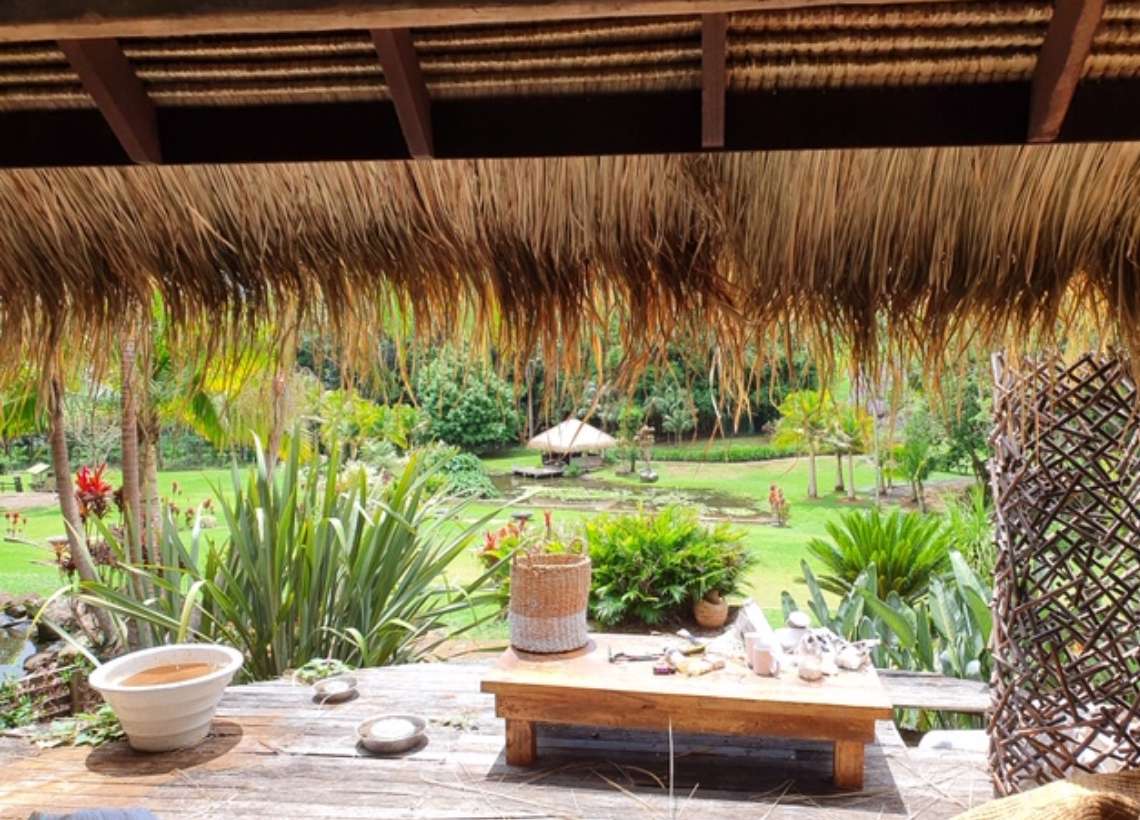 Outdoor living solutions for the Sunshine Coast
Sunshine Coast Bali Huts, bamboo panels, shingle roofing, or thatch roofing are the perfect solution to create your own outdoor oasis. Visit our showroom in Buderim to view our full range of products. Island Thatch has everything you need to create the perfect outdoor space or entertainment area. 
Bali thatch and African thatch roofing are a practical addition to Sunshine Coast backyards. This durable material is waterproof, naturally insulated, and up to 10 degrees cooler than that classic metal roofing. It's perfect for the Australian summer.
Island Thatch provides Sunshine Coast Bali Huts and Umbrella Kits that will transform your backyard into your own oases. These high-quality products come ready for assembly with comprehensive instructions, or you can draw on our network of accredited installers.
Homeowners and holiday accommodation owners are turning to synthetic thatching as an alternative to natural thatch. We offer Virothatch Synthetic Bali Thatch Tiles and One Thatch Palm Shingles, two of the best natural thatch alternatives across the globe.
A backyard gazebo with seating in the shade, or a relaxation hub, such as a sauna, spa, or meditation space – whatever you want to create in your outdoor living area,  Island Thatch offers high-quality shingle roofing that's designed to go the distance.  
Make your Sunshine Coast property stand out with high-quality PVC fencing. This fencing is strong, durable, and affordable. Island Thatch provides Hamptons style privacy, picket, and top picket fences, ranch rail fences, PVC arbours, and accessories.
Transform your Sunshine Coast backyard into a resort-style dream that perfectly suits your lifestyle. Bamboo panels offer you privacy while enhancing the aesthetic of your property. It's a functional and flexible addition to commercial projects, too.


Makeover your Sunshine Coast backyard.
Create your dream backyard with Sunshine Coast Bali Huts, gazebos, and Bali or African thatching. Island Thatch's products combine the must-haves for a stunning tropical aesthetic with the practicality of cool, shady spaces — something any Sunshine Coast property is bound to benefit from.
Why homeowners across the Sunshine Coast choose Island Thatch
Homeowners, business owners, and managers of commercial projects across the Sunshine Coast depend on Island Thatch for their Bali Huts, thatching and other outdoor solutions. Here's why.
We source our own materials. It's how we provide such high quality.
The Island Thatch team imports our own materials from all across the world. It's how we ensure such a high standard of quality, matched with amazingly affordable prices. We have long-standing positive relationships with .our suppliers, too. It allows us to continue providing our customers with the very best quality products with excellent lead times.
We're always researching new and improved materials we can use to make our products even better.
Island Thatch is the largest supplier of Bali Huts here on the East Coast
Established in 2001, Island Thatch is more than 20 years in the making. It's our long-standing experience in the industry that has made us the largest supplier of Bali Huts and Bali Thatch here on the East Coast of Australia.
We're a second-generation family business dedicated to supporting Sunshine Coast home and business owners through our extensive experience and serious dedication to customer support.
Bali Huts Sunshine Coast homeowners love
Based in Buderim, Island Thatch provides high-quality Bali Hut solutions to homeowners, business owners, and construction professionals all across the Sunshine Coast. Outside of the Sunny Coast? Our products are available for delivery all over Australia.
Get Bali Hut thatching delivered to your doorstep. Island Thatch is the team the Sunshine Coast depends on.
Get in touch with our friendly team or visit our showroom on the Sunshine Coast.
Our experts can help you decide on the best products for your outdoor space, organise a free quote and arrange installation to create the perfect tropical ambience right in your own backyard.