What is the best way to cover a large outside area?
There are many ways to cover an outdoor living space that you feel proud of. They range from being quite simple and easy to achieve all the way to the more elaborate plans that require more thought and attention.
Use a Bali hut to cover a large patio
Utilising a simple Bali hut can help in creating an outdoor room that feels private and intimate. To ensure more privacy, make the most of the abundance of beautiful plants that can be found all around Australia.
Vine-climbing plants in particular will bring a touch of the outdoors to the space.
Using an overhead structure for your outdoor living spaces is a clever way to assist in breaking up a large outdoor space into smaller areas. 
An outdoor kitchen, outdoor dining area and outdoor living area can be sectioned by using this sort of structure. String lights and potted plants can help incorporate natural elements into an outdoor space.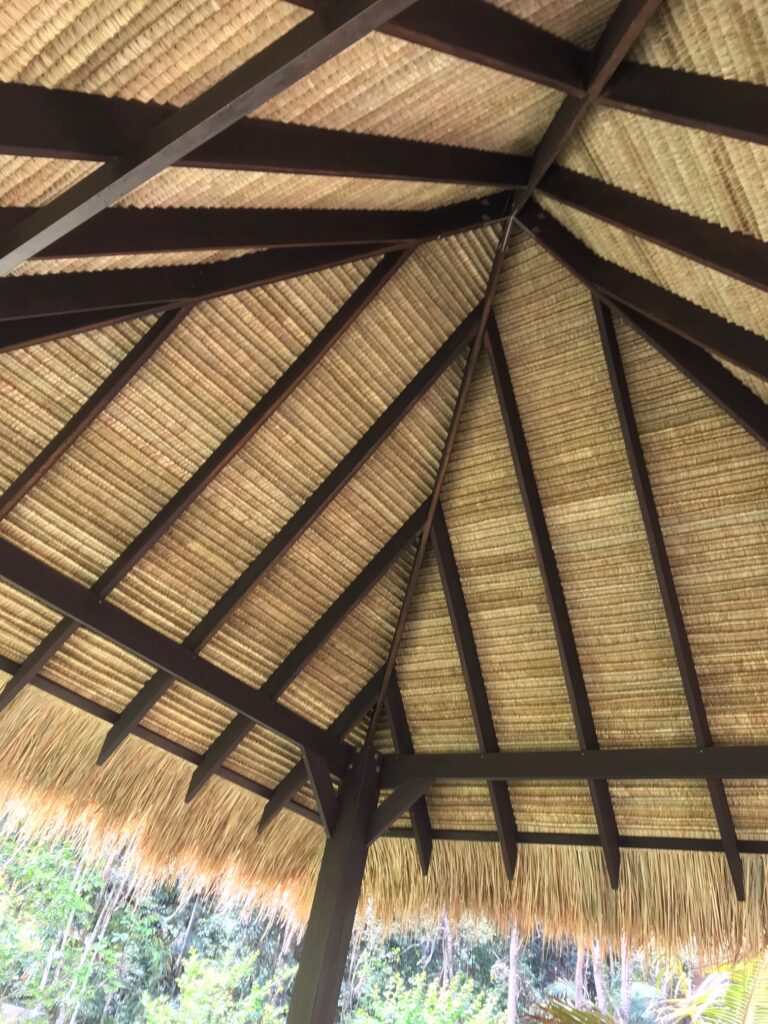 Install a mini outdoor dining area
An outdoor dining area can elevate your outdoor area. It can provide the ideal spot to sit down and entertain friends and family, whilst maximising your outdoor space.
Placing outdoor seating will allow you to be creative with the space, bringing a typically indoor space outdoors. 
Sit and have a bite overlooking the swimming pool, or relax in the winter with a hot cup of tea or coffee.
Use a thatched roof to cover a large outdoor living space
Placing a thatched roof on top of outdoor living spaces brings a tropical luxury resort feel straight into your backyard. This provides a much-needed escape for you whilst ensuring that you don't have to step foot outside your home.
What should be considered when creating outdoor rooms?
There are many different factors to consider when creating an outdoor space, including the aesthetic, purpose, decor and much more.
Outdoor living spaces can offer many different purposes, including an outdoor living room, outdoor kitchens and many more.
When you're deciding whether or not to build a patio, it's important to factor in what purpose you want that area to serve in your home.
Decor and outdoor furnishings can be a fun element of creating these outdoor spaces and can provide a creative extension for many people beyond the interior of their homes.
Choosing the right decor to compliment your house is a factor to consider when building your outdoor living space.
The location is an aspect that you will need to consider, as it ties in closely with the purpose of the outdoor living space.
You may want to have an outdoor umbrella next to your pool or a large Bali hut in your garden but whatever the decision, the location is vital when considering building your outdoor living space.
One of the most important aspects of creating a covered outdoor living space is the roofing. All other aspects are taken into consideration after your space has been built, however your roofing needs to be durable, weather-resistant and functional, whilst still looking visually appealing. 
Thatch and shingle roofing are great choices when acknowledging the extreme weather conditions that Australia endures year round.
What are the best roofing options for outdoor living spaces?
When choosing a roof for an outdoor living space, metal roofing has become a popular option. These roofs are durable and will fit in with most styles of outdoor living spaces, and are widely available.
Metal roofs always need to be installed by a professional to avoid errors, which could be more expensive to fix than the roof itself.
One disadvantage you do need to consider with metal roofing is condensation.  Particularly if you have an enclosed structure, you won't want condensation dripping down from the roof.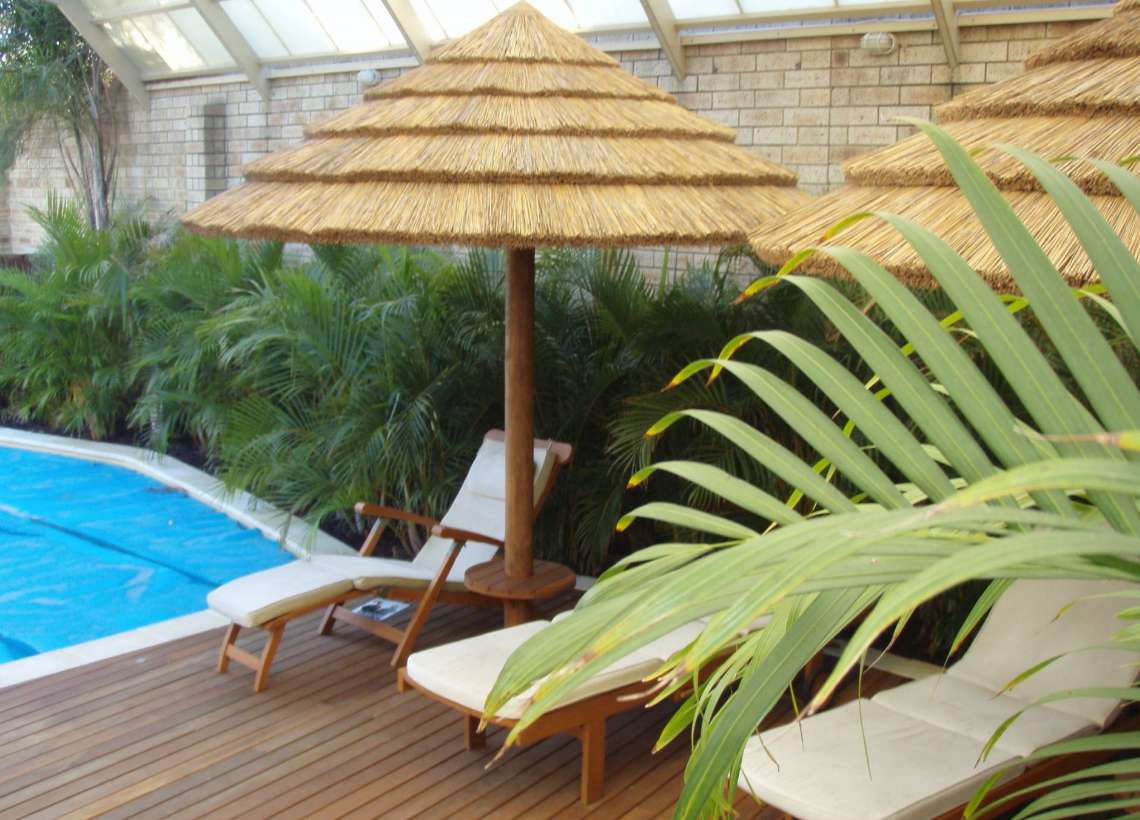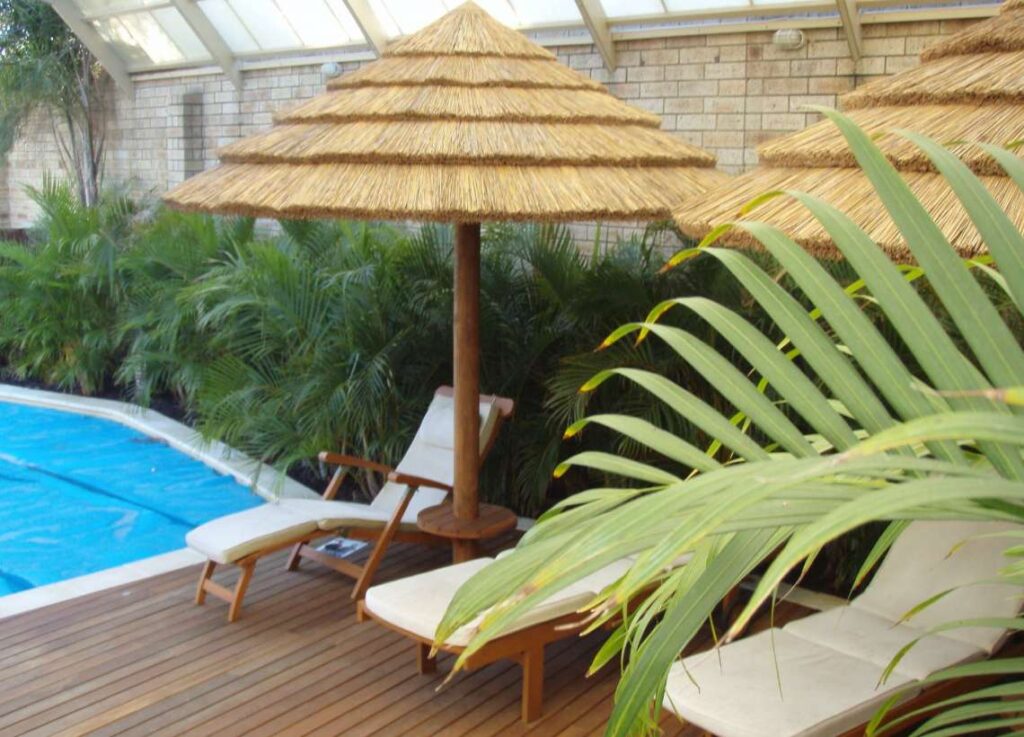 This is a very traditional roofing option that has been used for generations to cover outdoor living spaces. It's easy to work with and can be designed to provide shade coverage to the entire outdoor living space. It;s very hard wearing too.
In Bali and Africa, the process of thatching roofs has been used for many years. It's relatively inexpensive to install and provides a cool outdoor space that brings a tropical feel to any home. 
It's also quick and efficient to install, meaning that you will be able to enjoy the full benefits of your outdoor living space earlier than expected.
Thatched roofing is also incredibly efficient for UV protection, which is always a priority in hot and humid Australian climates. This type of roofing will be able to consistently keep any outdoor room five to ten degrees cooler than other types of outdoor roofing, including metal roofs. 
The grasses that are used in thatched roofing in huts and gazebos offer natural insulation.
This form of roofing is quickly gaining popularity as a roofing option for many outdoor living spaces, particularly for holiday resorts, commercial projects and homeowners.
Virothatch and Viva Palm are two of the best synthetic thatching materials on the market, with Virothatch being used in Disneyland USA, Adventure world and many Bali resorts. 
Synthetic thatching is maintenance free, 100% recyclable and is UV and colour stablised, meaning it won't fade or discolour, which is crucial when factoring in the hot Australian sun.
Shingle roofing options for an outdoor living space are designed to withstand the extreme climate found in Australia. They are durable, water resistant and can instantly bring a timeless beauty to an outdoor space. 
Ironwood Shingle Roofing in particular is 100% waterproof, mould and mildew resistant, requires minimal maintenance and looks striking in all outdoor spaces.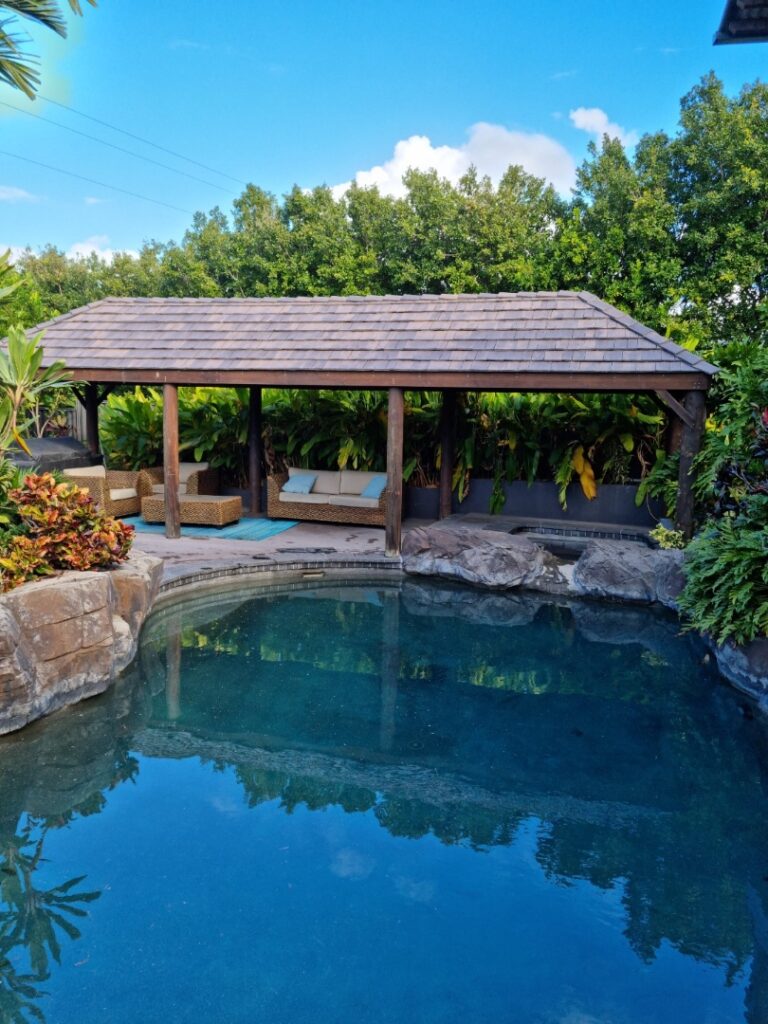 How do you make a good outdoor living space?
After you've made all the big structural decisions about your outdoor room, such as your roofing and overall shape and size, it's time to start thinking about the smaller details of the space.
Take a look at the space to get a good sense of the area and ensure that you've familiarised yourself with the different outdoor locations. 
It will all depend on what the purpose of the outdoor space is, whether you want to use it primarily for entertaining with a dining area, or use it for sunbathing, this will impact what you define as a good outdoor living space.
Play with levels and seats
Outdoor living spaces can often benefit from utilising a wide range of chairs and levels. By adding in a variety of plants and outdoor decor, the space will become a focal point that your guests will be drawn to and will provide a sense of space and luxury. 
Mix and match outdoor cushions and pieces of furniture to create different levels to keep a space visually interesting to look at.
Keep playful garden features close by
To elevate your outdoor room, adding in a water feature can instantly make it feel like an outdoor oasis. Having the sounds of gently trickling water in the background helps with the creation of a relaxing and revitalising space. 
Other garden features such as colourful benches and outdoor lights keep the space interesting and visually appealing.
In any outdoor living room or outdoor dining room, placing an emphasis on the small details takes your space above and beyond a standard outdoor room. 
Using soft furnishings, such as outdoor rugs, lighting and other accessories will ensure that the outdoor space is just as cozy as the interior of your home.
Outdoor festoon lighting can be left out all year round and requires minimal effort for maximum effect and if thatched roofing is installed, can create an overall cozy effect.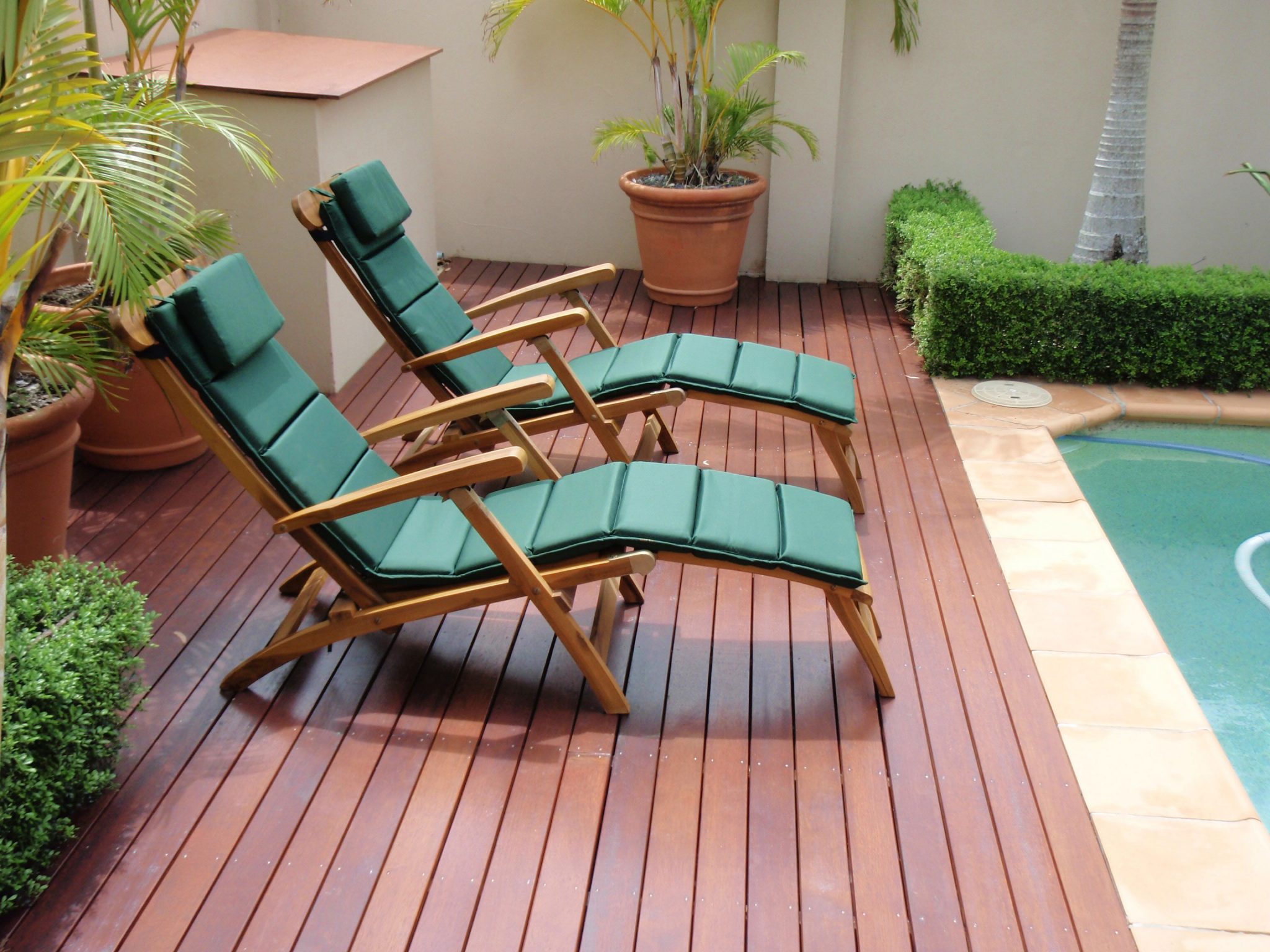 In Australia, there's few places where an outdoor fireplace will come in handy. However, for those down south who are looking to build one, the addition of an outdoor fireplace and fire pit can help with making an outdoor room that your guests will want to relax in. 
Even adding a wood fired pizza oven can instantly elevate a space and bring a cozy touch to those winter months.
Pick indoor/outdoor plants
Your outdoor area should reflect the natural environment that surrounds it. Choosing plants that thrive both indoors and outdoors will create a relaxing space that intentionally incorporates outdoor elements, creating a seamless link between the outdoors and indoors. 
Synthetic thatch roofing already provides a tropical feel when utilised in outdoor structures and by using plants and lush greenery, can substantially elevate that tropical atmosphere. 
Having an outdoor space that delivers a revitalising escape from the outside world is crucial, and the clever choice of plants can weave a tranquil feel throughout.
Fire up an outdoor kitchen
Having an outdoor kitchen can offer an incredibly relaxing place within an outdoor dining room. It doesn't even have to be permanent, and could be as simple as a BBQ under a Bali hut. 
By providing an outdoor kitchen space, entertaining guests will be made easier. After all, there's few things more classic than firing up the BBQ for a sausage sizzle on a hot Australian summer's day.
Your outdoor living space needs to reflect you
At the end of the day, the covered outdoor living space that you choose to build as an extension of your home needs to reflect you and your home. The space needs to feel like a place that you can relax in and escape to when life gets busy. 
After all, it will be a fixture in your home for many years to come, so the structure should be sturdy, durable and be able to last in the extreme Australian climate.